Get StartedAlready a Member?ContactPrivacy PolicyDisclaimer
Introducing a highly effective, yet simple, program: The PREPARED Path: Your Ultimate Family Survival Course.
The PREPARED Path uses a unique combination of straightforward actionable advice, videos so you can see the concepts in action, and even links to free resources where you can get even more details when you're ready… all designed to be easily understood and fast acting so you can prepare yourself and your family for the worst as quickly as possible and for as little money as you want.
When You Grab Your Copy Of The
PREPARED Path Today, You'll Discover…
What the A.P.T. concept is and how you can use it to prepare for disasters, big or small, effortlessly.
How to find "hidden" water inside the house (plus where to find safe to drink water around the house).
How to get a never-ending supply of fresh, clean water pumped straight to your home from the best source possible.
Several ways to collect water–some of which can be deadly–how to know the difference, and what you can do about it.
A simple solution to quickly add 100 gallons or more of clean water to your preps immediately before disaster hits.
How to ensure your family has hundreds of gallons of fresh water at all times… while others lick morning dew from grass.
7 easy solutions to ensure your family doesn't get sick and die from polluted water even though it looked crystal clear .
Why you'll never throw away a 2-liter soda bottle again… even steal them from friends.
Precisely which foods to store and why (and which ones to NEVER buy… they're a huge waste of money).
What to do to keep foods viable when the refrigerator stops working, forever.
How to ensure your family has the most nutritious foods they need to not only survive but to be healthy while others waste away to nothing.
5 methods of storing your favorite perishable foods without refrigeration, even when it's triple digits outside.
Precisely which bulk foods to store, how to store them so they last a lifetime, and what to do with them once you have them.
How to keep from getting sick when there's no more running water, soap, flushing toilets… or toilet paper (yikes!).
3 ways to take a hot shower each and every day, even when there's no more electricity or running water to be found.
How to keep your laundry and dishes clean when the washing machine, dryer, and dishwasher turn into unless piles of junk.
How to build a first aid kit which will save lives and keep your family healthy when there's no doctors or hospitals around.
7 life-threatening first aid scenarios which can kill in minutes and what to do about them.
Which antibiotics to store, where to get them, and how to buy them when your doctor says "no way".

Why tooth problems can kill you and what to do when your dentist is MIA.
Why house fires could be the biggest danger post-SHTF and what to do when there's no firemen around to save you.
Do this one thing wrong and you may never wake up to regret it (hint: it's especially prevalent during emergencies).
How to turn your home into the "Fort Knox" of the neighborhood when the riots start and your neighbors "lose their minds".
How to defend yourself and your family even if you have only your bare hands, but firearms are a much better option and we'll cover those in detail.
How to hide enough supplies and gear in and around your home to equip a small army… or to just live comfortably for months.
Why you're doing more in a day to give away your survival activities than you ever realized and how to fix it so nobody suspects a thing.
5 ways to keep your family warm even when it's freezing outside (plus why and how it's far more efficient to "heat the person").
3 awesome ideas to heat your home if the power NEVER comes back on (plus how to keep cool if the power never comes back too).
How a little-known strategy can heat your home with a fraction of the fuel traditional stoves use.
A no-brainer method to cooking food, requiring no effort or attention… allowing you to tend to other activities or just take a well-deserved nap.
4 off-grid cooking methods anyone can use to make delicious, nutritious meals, one of which can last forever and uses NO fuel whatsoever.
3 ways to get hot water day-in and day-out, even when it's pouring rain outside.
Several easy ways to keep the lights on, to keep from stubbing your toes in the dark, to keep the kids from being scared, and even to warn off intruders.
How to be the first to know when disasters strike and even how to uncover the information local authorities may not want you to know.
4 ways to keep in contact with friends and family while everyone else remains clueless.
How to pull together a solar power station without breaking the bank… giving you an unfair advantage over everyone you know.
How you can spend a fraction of the cost of a new generator and get the same (or better) results… it's even portable.
How to care for children, pets, the elderly, and special needs individuals when there's no support structure in place.
… and so much more… the above was just a sneak peek of what's inside.
I'm willing to bet The PREPARED Path is exactly what you've been looking for to fully prepare you and your family for a "s**t hit the fan" event.
But Don't Take My Word For It…
Albert Horne: "This is one of the best laid out courses I have seen online. I have taken military survival courses (in person) and this does not fall very short of it. The added bonus, in my opinion, is the fact that you could actually print the info off if you wanted to. The breakdown into separate modules (first aid ) and separate parts, make it simple to use. I think the author uses the age old adage, Keep It Simple Stupid. which is good advice and common sense, which in any situation is the best action to use. Overall this course covers enough info in a basic format that anyone should be able to use and stay alive. Let's hope we never have to, but if it happens, this course is your best bet."
Stephanie Watson: "I love the course and membership area. It is simple to navigate and use. In this ever changing and stressful world I finally feel as though I can prepare myself for any situation. Yes, even a woman who has never even been camping. I have all the information I need at my fingertips!"
Wayne Kilmer : "I got home the other day at 4am, thought I would give TSS a quick look then go to bed. Around 1:30 that afternoon I realized that my coffee was cold, I hadn't had breakfast or lunch and I have wasted several hundred dollars on OTHER survival guides. Every time I had a question there was the answer or a link to a site with free information. New prepper you have got to have this, been prepping for awhile get TSS you will be pissed off, but you will find out what you have missed."
David Parker: "A lot of thought and planning has gone into this program that is designed to help you prepare for most any emergency to survive in place situations. Plain spoken and easy to understand along with being well organized makes it easy to find subject that you want to concentrate on. The videos add interest and hold your attention. I recommend everyone needs this program to plan for the unthinkable and unexpected. I'm really thankful for the opportunity to have it for me and my family."
Bill Clements: "I'd gladly recommend your course. It's easy to navigate and gives so much info. The information you provide is hard hitting and tells it like it is. It helped me to realize the tough calls I will have to make. Plus all the extra information you provided helped me see where I had under estimated the additional water that my elderly parents would need that I had not taken into consideration for when the SHTF. Your bonus forms are awesome. I found several sections that I hadn't thought about. I am still updating my plans that I originally filled out thinking that I had everything covered I didn't."
Judith G. "I usually dislike videos, but I actually watched nearly all of them. I think they are quite informative and valuable, especially for someone who comes new and thoroughly unprepared for any of these problematic situations. They are things I might never have thought of on my own."
Ken Petrocelly: "I have reviewed The Prepared Path manual modules and the bonus sections and would like to commend you on a great and comprehensive effort. The material is "Head and Shoulders" above other online survival publications. Your approach is logical and the material is well organized; covering many bases not even touched by the others. I feel confident my family and I will be able to handle any situation, if and when confronted by a disaster! I like the worksheets that enable full coverage of items needed for a particular event or to establish and track individual preferences."
Matt Ballard: "After reviewing the material provided by the Prepared Path program I found the information very useful and true to my own experiences in the field. The website was very user friendly and easy to navigate. I would highly recommend the Prepared Path to anyone wanting to learn new survival skills or refresh the skills they may already possess. One can never be too prepared."
Nick Young: "The Prepared Path course includes a wealth of information on all the important topics such as sanitation and hygiene, food storage, cooking, first aid, safety and security, and much, much more. Course material is provided in video format, as well as downloadable PDF files (save and print what you need in advance). You can NOT go wrong! Invest in this course, no matter what you may already know (or think you know), because you and your family can NEVER be over-prepared!"
And these are just a few of the many comments I receive from good-hearted folks just like you after using this one-of-a-kind online family survival training system.
Can I promise you will survive when "s**t hits the fan" just by using the system?
Of course not.
But I can promise: if you grab this program and do what it says, you'll be far more capable than 99% of the American population to feed your family while others starve… to keep them warm while others freeze… to keep them safe when the riots start… and you WILL know once and for all the strategies you'll need to do so.
Okay… if you've made it this far it means you can begin to feel how effective this system is and how much this is going to change your life for the better.
So how do you get started?
How much for the complete PREPARED Path system plus the "done for you" tools which I'll reveal in a moment?
Honestly, it doesn't matter if you're just getting started, or if you've been trying to prepare your family for months or years.
This is the only program like it in existence.
So there's nothing to compare it to…
Sure, there are plenty of survival courses out there which promise you the world but give you just enough to think you got something of value and then try to sell you on their next "must-have" course.
But this is the only program in existence which does all the work for you, and takes away the guesswork and the pressure to figure things out on your own.
The PREPARED Path shows you exactly what to do step-by-step, answers all of your questions–sometimes even before you knew you had them–and makes it as easy as possible to get yourself and your family prepared ASAP.
But Let's Consider The Few Alternatives
For Getting Prepared On Your Own…
You could attend a hands-on wilderness survival course.
This option will cost you many hundreds if not thousands of dollars just for a single course.
You'll have to take off work, spend many hours travelling, and waste precious time knee-deep in some muddy swamp.
Sure, you'll learn some skills but they won't do you a bit of good unless you're in the exact scenario they teach and it sure won't help you be prepared to bug in at home or to bug out in your car, both of which are far more likely than any wilderness survival scenario.
You could spend hundreds of dollars on the many lackluster survival guides out there.
You might learn neat ideas like aquaponics or how to build solar panels… neither of which you'll actually do… then get sold on the NEXT thing they throw together.
I've been asked to promote many of these guides on my blog, reThinkSurvival.com, over the years, most of which I wouldn't touch with a 10-foot pole.
Many of these guides are just a waste of your time and, sadly, leave you less prepared than you realize because you mistakenly believe you have what you need when, in fact, it's only a small part of the survival "puzzle."
You could try to discover the many solutions I'll share with you inside on your own.
You'll have to spend countless hours scouring the web's many hundreds of survival blogs and forums for the best articles and videos… the stuff you can really put to use… like I already have.
Do you enjoy your weekends? Spending time with your kids?
Too bad because your "free" time will be gone for the next several months.
Do you really want to waste your life searching for what's already gathered inside The PREPAERD Path?
Let me ask you a question: Do you love your family?
Deep down in your heart, would you do ANYTHING for them in order to keep them safe?
Nearly everyone would say "Yes, of course I would!" but their actions speak differently.
Sure, you might buy your significant other flowers on a special occasion, or take the family on a nice vacation once a year… even put money away for a college fund year after year.
But the fact is: NONE of these gestures will do a bit of good when the water stops flowing, when the trucks stop delivering food… when the bullets start flying and all hell breaks loose.
And when the "s**t s hits the fan" and you look at your kids–truly look at them–you'll see the desperation in their eyes, you'll feel the fear deep in their bones… you'll wish you would have done something different in this moment… to realize you could have kept them safe and well fed… just by taking action right now, and you didn't do it.
It's hard for most average Americans to believe but being truly prepared, having those things which can mean the difference between life and death, and knowing how you can keep your family safe is really just about doing a few little things right.
The techniques I share inside The PREPARED Path work very, very well.
And because I know you need help and because I want you to get your family prepared right now, I'm going to let you try out The PREPARED Path at a price you're not going to believe.

The regular retail price of The PREPARED Path is just $99… much less than a generator you're likely to naively buy because some website "guru" said so… the generator which just collects dust and cost you several times more than you should have paid for it because you didn't realize there was a better option… and a lot less than it will cost you in money and time if you walk away without doing something right now.
But I realize $99 can seem like a lot of money to people sometimes, so I want to take away every obstacle to you doing this and getting your family prepared.
Everyone who has used The PREPARED Path says it's a steal at $99 and I could have easily turned this into a weekend workshop worth several hundred to attend… I was even flat-out told I shouldn't EVER sell the program for anything less than $67 or people won't value it's true worth.
But I want to make this a real no-brainer for you.
I want you to see how well it works for yourself.
For a limited time I'm willing to let you have the entire system for just $47 today… plus if you act right now and to put this offer over the top, I've got not one, not two, but three game-changing bonuses for you…
3 Unique Reports Designed To Prepare You In One Trip!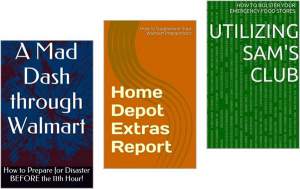 These three additional reports cover utilizing Walmart, Home Depot (or Lowe's or Menards), and Sam's Club (or COSTCO) to get yourself and your family prepared with many of the basic critical survival items you're missing… all in a single shopping trip.
You'll be amazed at all you can do when you have the plans and checklists to make it happen since each report includes a printable, easy to follow, checklist to ensure you get everything you could need to cover short term scenarios without missing a thing.
These reports alone could be worth upwards of $29 each but they're yours, FREE, and ONLY bundled with this special offer trial price of The PREPARED Path.
But wait, there's more…
Act Now And Gain Instant Access To My Unique "Done For You" Personal Planning Tools Which Took Me Years To Get Right, 100% Free…
These tools alone are so unique and powerful I'm not sure for how much longer I'll choose to keep them bundled with The PREPARED Path…
Here's what's inside:
The "works like magic" way to plan for evacuation in mere minutes! You're gonna love the way you can answer a few questions and click some buttons and, voila… plan done.
How to ensure your family knows precisely what to do during any emergency, whether you're there or not, so much so you've only dreamed about it until now–it's easier than you think.
All the tools you need to prepare your family from top to bottom – you won't believe how easy it is to prepare your family when you swipe my survival toolkit.
And much, much more.
These "done for you" tools are the very best way to quickly plan for and ensure your family is safe and ready for anything, even if you're a beginner.
They'll give you a surefire way to develop comprehensive evacuation and disaster plans in minutes.
They cover Evacuation Procedures, Disaster Action Planning, Designing a Bug Out and Vehicle Kit, a Fire Escape Plan, Food Journal, Food Storage Calculator, a Food Storage Recipes Database, and plenty more.
You'll get…
5 Evacuation Planning worksheets (e.g., design bug out kit, evacuation procedures, priority checklists, bug out)
4 Disaster Readiness worksheets (e.g., disaster action planning, task tracking, fire plan)
12 Best Practices worksheets (e.g., firearms, water and food, wildfires, communications, etc)
4 additional Food Planning worksheets (e.g., food storage calculator, food storage recipes database)
You'll get more than two dozen PDF file worksheets so you can prepare your family from top to bottom–you won't believe how easy it is to prepare your family when you swipe my personal survival toolkit!
Every file (except for one because I had to write Excel macros for it) is designed as a PDF file and can be used with Adobe Reader on either PC or Mac computers.
They're all easy and intuitive to use but just in case I even have a dozen or so help videos on using them should you find the need.
I could easily sell all 25 tools for $10 each and if I bundled them for half price they would cost you $120 alone.
You get access to every single one of my Personal Planning Tools free!
I've shared these with my family so everyone knows what to do at all times.
They're easy enough even my elementary school children understand them.
Most importantly, I'd like to share ALL of them with you right now.
You're Covered By My "No Hassle, No Worries,
No Risk" 100% Money-Back Guarantee…
Here's how it works…
Simply join today at no risk to you.
Use the material as often as you like over the next 60 days.
Keep the "done for you" bonus personal planning tools and even the three free reports.
If you're not 100% satisfied by what you find inside and with the results you'll achieve, just email me within 60 days for a full, no questions asked refund.
No fine print, no BS.
Truth be told, I love to over-deliver and if The PREPARED Path doesn't do so, if this program doesn't deliver the results promised, I don't want your money.
I've been doing this for many years now… preparing my own family and helping others while I'm at it.
I've helped many people get their families better prepared than they ever imagined and the vast majority of them come back to me and say, "This course is fantastic! It's worth 10 times the small amount you asked me to invest."
But, honestly, a few do say it's not for them.
And if you get inside, try it out, read the reports, use the tools, and still aren't blown away then simply let me know.
I'll give your money back without a hassle and we'll still part friends.
My goal here is to help you help your family get prepared as quickly as possible.
It really is this easy.
But you really do have to act right now.
If you love your family like I do mine then I want to give you the tools you need to truly get them prepared for the worst right here, right now.
To do so I'm selling this program for just $47 (well below market value) but I plan on raising–even doubling–the price in the very near future.
Why? Well, as strange as it may seem, even though I want to help as many families out as possible I might actually have to raise the price to help the most people.
You see, so many folks wrongly believe getting their families prepared MUST be expensive, hard, and time-consuming to even get started.
They figure critical knowledge like this MUST cost them loads of money out of pocket.
Then when they hear they can get their hands on such a breakthrough program for such a low price, they just don't believe it.
So I may need to raise the price of The PREPARED Path specifically so more families can benefit from this program.
You have to act right now in order to lock in the low-low $47 trial offer.
Listen, I don't want to pressure you here but you've got a very simple choice to make…
You Really Have 3 Options Today…
Option 1

is to do nothing and leave.

Continue going the way you are now and getting nowhere fast, to keep…
Allowing the nagging "I'm not prepared" feeling in the back of your head to pester you nonstop.
Feeling like you're failing your family each day you continue to do nothing.
Praying each night tomorrow the "s**t doesn't hit the fan" because you're simply not ready for it.
I'd say if you've made it this far it means what you've been doing thus far just isn't working.
It tells me you're ready to get prepared and you're willing to take action to make it happen, so leaving right now wasn't really an option to begin with.
Option 2

is to try to get prepared on your own.

You'll take what you may occasionally learn browsing hundreds of survival blogs and forums…sifting through all the garbage… and try to figure it out on your own, hoping against hope you'll get it right.

You can try this but I can tell you from experience and from many years of being in the niche that so many people waste so much time and money following the wrong advice and buying the wrong gear the odds of you getting it right the first time are slim to none.
And then there's
Option 3

… risk nothing at all today.

Grab The PREPARED Path online training program for just $47 today as part of this low-price trial offer.

Go through the material.
Try out my tested and proven strategies and become yet another survival success story.
All you have to do to get started right now is to click the "Add to Cart" button below.
You'll gain instant access to everything and will begin preparing your family for the worst only minutes from now.
Just imagine…
Having more food and supplies than most folks would know what to do with, enough to feed your kids for years to come.
Being the only person on your block who knows what to do when the power goes out, when the trucks stop delivering food… when the riots start.
The look on your neighbor's face when your house is lit up like a Christmas tree in the pitch black darkness and your chimney is a ablaze while his family freezes.
Being able to stand up to those government goons when they try to take your food, supplies, and guns for the "greater good"… then move you to a nearby FEMA camp for your "own protection."
The scorn even your closest of friends and family will have for you when they realize how well prepared you and your family truly are… and how they wish they were too.
How content you will feel knowing your kids are warm, healthy, well fed… and you're ready for anything no matter what comes your way.
How easy all of this is when you have the "done for you" tools right at your fingertips.
Just a few minutes from now you can have all of the material you'll need laid out step-by-step in front of you.
You can go through it at your leisure and have all the tools to prepare yourself and your family right now.
And you can discover for yourself how easy it is to get prepared, so your family will be safe, secure, and well taken care of while others perish.
I want this for you… and I hope you want this for yourself as well.
And I hope you will act now by clicking on the "Add to Cart" button below and let my knowledge help you prepare your family for the worst.
Act now because tomorrow could be too late

.

Yes! I want to gain immediate access to The PREPARED Path right now and I realize by doing so I gain:
Complete access to the Member's Area where I'll have full access to all 12 survival modules, a $228 value.
Three one-of-a-kind reports on utilizing Walmart, Home Depot, and Sam's Club designed to prepare me in a single trip to the store, an $87 value, which I'm free to keep just for trying The PREPARED Path.
All 25 bonus files covering evacuation, disaster planning, food storage, and more, a $120 value and I realize I get to keep them no matter what.
Unlimited email access to me via the Member's Area for one full year should you have any questions.
I understand this is absolutely risk-free to me and if at any time within 60 days I'm not 100% satisfied with everything included I may get a full refund, no questions asked.
I further understand my order via Clickbank is both secure and encrypted using SSL technology and has been verified to be malware-free by both McAfee Anti-Virus and Norton Security.
Albert Horne says "This is one of the best laid out courses I have seen online. The information is almost as complete as could be possible… this course is your best bet."
Wayne Kilmer says "I have wasted several hundred dollars on OTHER survival guides."
Ken Petrocelly says "The material is 'Head and Shoulders' above the many other survival publications I have seen."
Nick Young says "The Prepared Path course is EXCELLENT! …You can NOT go wrong! Sign up for this course, no matter what you may already know!"
Matt Ballard says "I would highly recommend the Prepared Path to anyone."
CLICK HERE TO CREATE MY ACCOUNT AND GET STARTED WITH THE PREPARED PATH TODAY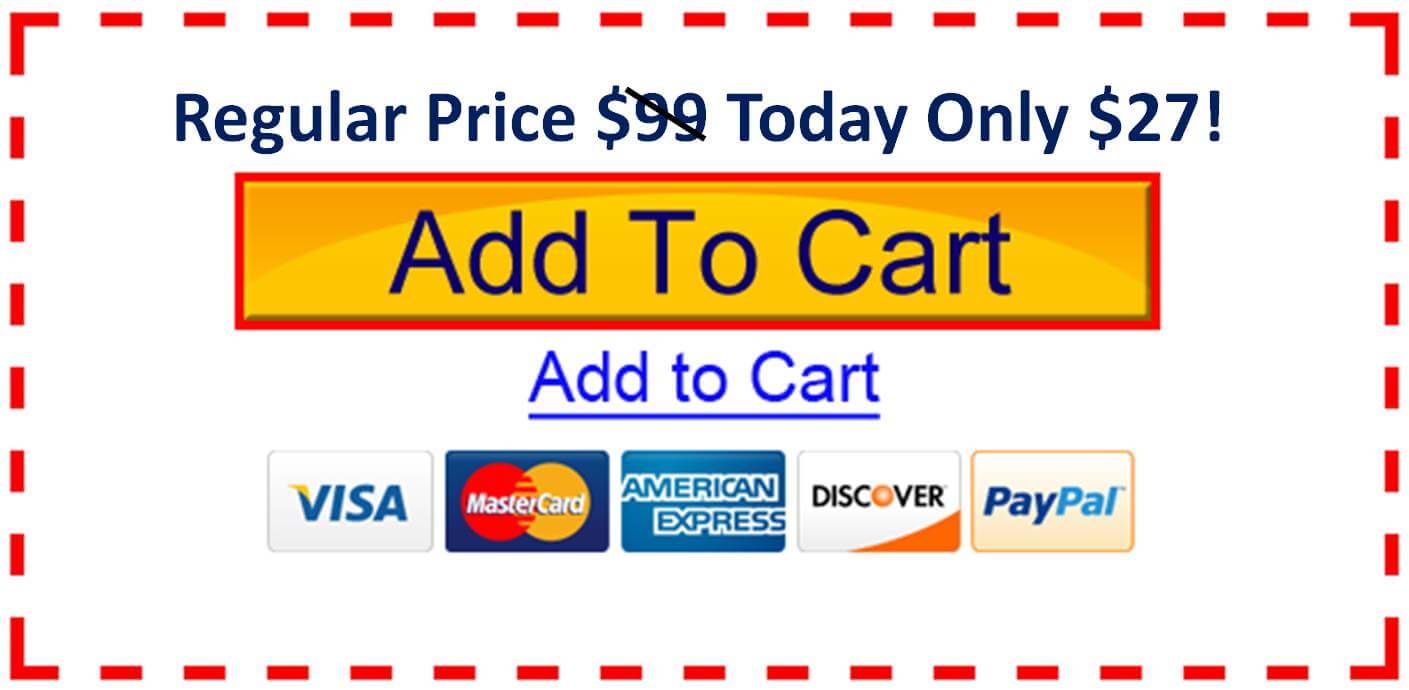 Click On The Box Above To Gain Immediate And
Full Access To The PREPARED Path Right Now
Delaying even a moment could be too late.
I sincerely hope you'll consider this offer seriously and please feel free to…
Forward This Message To Family And Friends…
Because, as I showed you in this presentation, the vast majority of Americans are woefully unprepared for even the slightest of emergencies, including your friends, your family, your neighbors… everyone… even you… until now.
Consider how irrational your friends, family, and neighbors WILL be during ANY truly lengthy emergency.
Most people choose to remain oblivious to the consequences of NOT preparing NOW.
Yet history has shown those who fail to prepare, prepare to fail.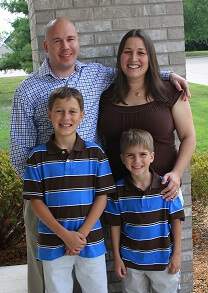 The bottom line is: today, YOU have a choice.
Make the right choice right now.
Sincerely,

P.S. #1: Once you join you'll have complete and continuous access to The PREPARED Path via the username and password you choose during your 60 day trial period at absolutely no risk to you.
P.S. #2: You'll even get to keep the 3 additional reports designed to prepare you in a single trip to the store.
P.S. #3: Remember too ALL 25 Bonus Personal Planning tools, covering disaster planning, evacuation, food storage, and more are yours to keep no matter what as well.
All totaled, the gifts alone are worth more than $207 (all yours to keep) while the entire survival course, gifts included, total a whopping $435…
…but you'll barely pay a fraction of the cost and instead pay ONLY $47 if you choose to act right now.
Don't let your family become another disaster statistic – protect yourself and your family by clicking here to join today. And do it now because tomorrow could be one day too late.
By making the right choice right now you can save yourself and your family from the worst while others beg for food, freeze, and even die when they could have thrived.
Are you still here?
Let me go ahead and answer some of the most common questions I get about The PREPARED Path…
Frequently Asked Questions (F.A.Q.)…
How quickly will I get The PREPARED Path?
Sometimes people write and say, "Damian, I want this now!" And I totally understand your urgency, which is why I deliver The PREPARED Path (as well as the bonuses) as an online digital product, accessible from anywhere so long as you have an internet connection.
The way it works is fast and easy… as soon as you hit the "Add to Cart" button above, you'll be brought to the secure Clickbank checkout process and after you enter your credit card information (we take all major credit cards as well as Paypal) you'll be sent back here to register your lifetime account and, after doing so, you'll be given immediate and complete access to all of The PREPARED Path material only minutes from now.
You can access all 12 modules, download the many "done for you" personal planning tools, as well as the three free additional reports.
So really there is no waiting… no waiting for the postal service or UPS to deliver this days or weeks from now.
You'll be able to start digging through the material minutes from now.
What exactly are the Bonus Personal Planning Tools?
There are actually over two dozen of them, all of which you're free to keep just for trying The PREPARED Path.
Every file (except for one because I had to write Excel macros for it) is designed as an Adobe Acrobat PDF file and can be used with free Adobe Reader on either PC or Mac computers.
Some files are static files which you can print out, check off, and reference as you like; the Best Practices files (remember they cover topics like firearms, wildfires, communications, etc) are good examples.
The others are dynamic files which means they can be interacted with on your computer and then saved for later modification, use, and reference as needed; the Priority Checklist and Design Your Bug Out Kit files are good examples.
These files were designed by me to be super easy to use, employing user-friendly ideas like pre-filled in checkboxes and dropdown selection boxes that make them fast to complete… most people have never seen PDF files this easy to use.
They're all easy and intuitive to use but just in case I even have a dozen or so help videos on using them.
Who should NOT buy this?
Hmmm… how about people who have too much money, too much time on their hands, or those who aren't ready to accept this fact: bad things can and will happen no matter who you are.
Even folks who have been prepping for a long time find the program eye-opening to say the least.
Honestly, anyone who needs to save money on their preps, anyone who wants to spend more time with their kids instead of reading blog after blog, and anyone who wants to keep their family safe can and will benefit immensely from The PREPARED Path.
What if I have a slow internet connection, like dial-up?
While there's so much else to the course, including the many tools you can download, reports, and plenty of free resources offered, if you have trouble watching YouTube videos then you will have trouble watching the videos offered.
If that's going to drive you crazy then you can always skip the videos and still get more than you realize out of the course but it's really up to you.
How fast will I get results?
This is really going to depend on you.
I've had people write me and tell me they pulled "all-nighters" because they couldn't pull themselves away. 🙂
On the other hand, I've also had people take weeks because they literally went through each and every video and piece of advice.
Yeah, there's a lot inside… far more than I bothered to mention above.
Most people find plenty of advice they can put into action immediately and then build from there.
If you follow The Path and do what I say, you'll have a really good chance of getting your family prepared in no time flat… even better than most folks can imagine.
Is my credit card safe with you?
Yes. In fact, I'll never see any of your personal information, not your credit card, not your address… nothing… and I wouldn't want to.
I will, however, be able to see the username you choose when you register so, please, keep it PG. 😉
I should mention all credit card processing is handled by Clickbank, my program retailer.
They are a big company and very trustworthy.
They take your information super seriously and process all transactions via secure SSL technology (the gold standard of online security) and even verify the transaction is free of potential malware using trusted anti-spyware software from McAfee and Norton (the two biggest names in computer security).
All you have to do now to get started immediately is to click the link below.
And, like I said, you'll gain instant access to everything and you'll have The PREPARED Path system, the "done for you" personal planning tools, and the three free reports as soon as you join.
There's a lot of really critical information just waiting for you inside… stuff inside the online training program I didn't even mention above… a lot of techniques, tips, and advice you can use to prepare your family as easy and as fast as possible.
But all you have to do is to click the link below to complete the process and you'll get the entire system.
You'll find out for yourself how easy it truly is.
And what do you have to lose?
Nothing.
Really, the risk is on me here.
The risk is you'll try this and maybe not like it, and ask for your money back.
Which is perfectly fine. It's ok with me.
And I'll do it, no questions asked.
The money is nice and I love doing this but it's not the primary reason I'm doing any of this… I'm doing this because I love helping people get better prepared as I've always done.
Again, my name is Damian Brindle, and I hope I answered your questions.
And I really hope we'll be able to work together to get yourself and your family prepared today.
So please click the link below and discover everything inside The PREPARED Path today.
Thank you so very much…
Get StartedAlready a Member?ContactPrivacy PolicyDisclaimer
© All Rights Reserved. TopSecretSurvival.com 2016
ClickBank is the retailer of products on this site. CLICKBANK® is a registered trademark of Click Sales, Inc., a Delaware corporation located at 917 S. Lusk Street, Suite 200, Boise Idaho, 83706, USA and used by permission. ClickBank's role as retailer does not constitute an endorsement, approval or review of these products or any claim, statement or opinion used in promotion of these products.